Creative Wall Coverings Make an Impression
Published: 26/06/2016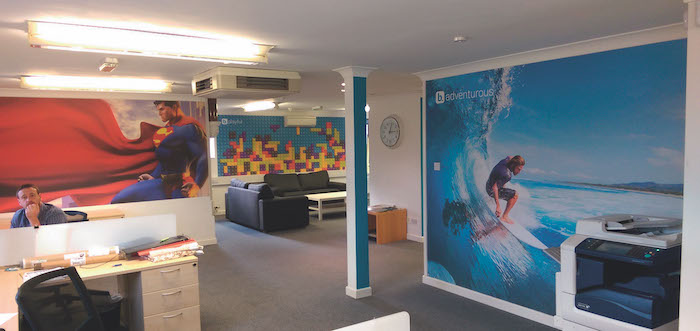 For specialist creative design and production agency, Burrows, it was as important to walk the walk as talk the talk when it came to revamping its Norwich based offices. After being located for 21 years in a character-filled converted Methodist Church, the agency wanted to refresh its environment to create a stimulating place in which to work and bring clients.
Head of Burrows' Norwich offices, Jason Elkins explains: "Like most businesses, periodically we refresh the look and feel of our offices to ensure that they remain current and modern and we felt that they were in need of a revision but with a new creative twist.
"Burrows is a very innovative agency so, as well as creating an environment that was inspirational to the staff, we also wanted to physically demonstrate our creative thinking to anyone who visits us here – we are all about helping our clients grow their business with compelling ideas and content, after all."
With offices in London, Dusseldorf and Detroit, as well as Norwich, it was important that the refurbishment reflected the values of the Burrows' brand as a leading Computer Generated Imaging (CGI) resource and also made a statement about the company's 53 year design heritage.
After investigating options for wall wraps for a client, the agency thought it would be a great idea to decorate four interior walls of the office with some vibrant eye-catching designs, so contacted one of Europe's leading suppliers of flexible fabric products, Structure-flex, about their range of wall coverings.
Structure-flex recommended a thin, woven, self-adhesive polyester fabric designed for smooth, flat surfaces that was both hard wearing and resistant to water so that it would stand up to the rigours of every day office life. The matte surface of the fabric was also capable of carrying exceptional printed resolution so it was perfect to carry the high definition designs that Burrows wanted.
"It was really important to the finished result that the images were reproduced at a sufficiently high resolution," continued Jason. "The printing had to look as good close-up as when you first see them at a distance to truly work on the walls and make the lasting impression were we after."
Structure-flex's graphics division recently invested a further £450,000 in the latest large format printing equipment to further enhance its capabilities. This has enabled them to produce stunning graphics on a range of vinyl flooring surfaces as well as wall coverings.
"The whole process was nice and easy," said Jason. "The coverings only took a day to install - there was no mess and the polyester fabric was backed with adhesive so it was quite straight-forward to apply.
"We're absolutely delighted with the result – cost effective mural art that has instant impact,"