Structure-flex Raises Christmas Spirit with Drinks Lorry Curtains
Published: 04/11/2021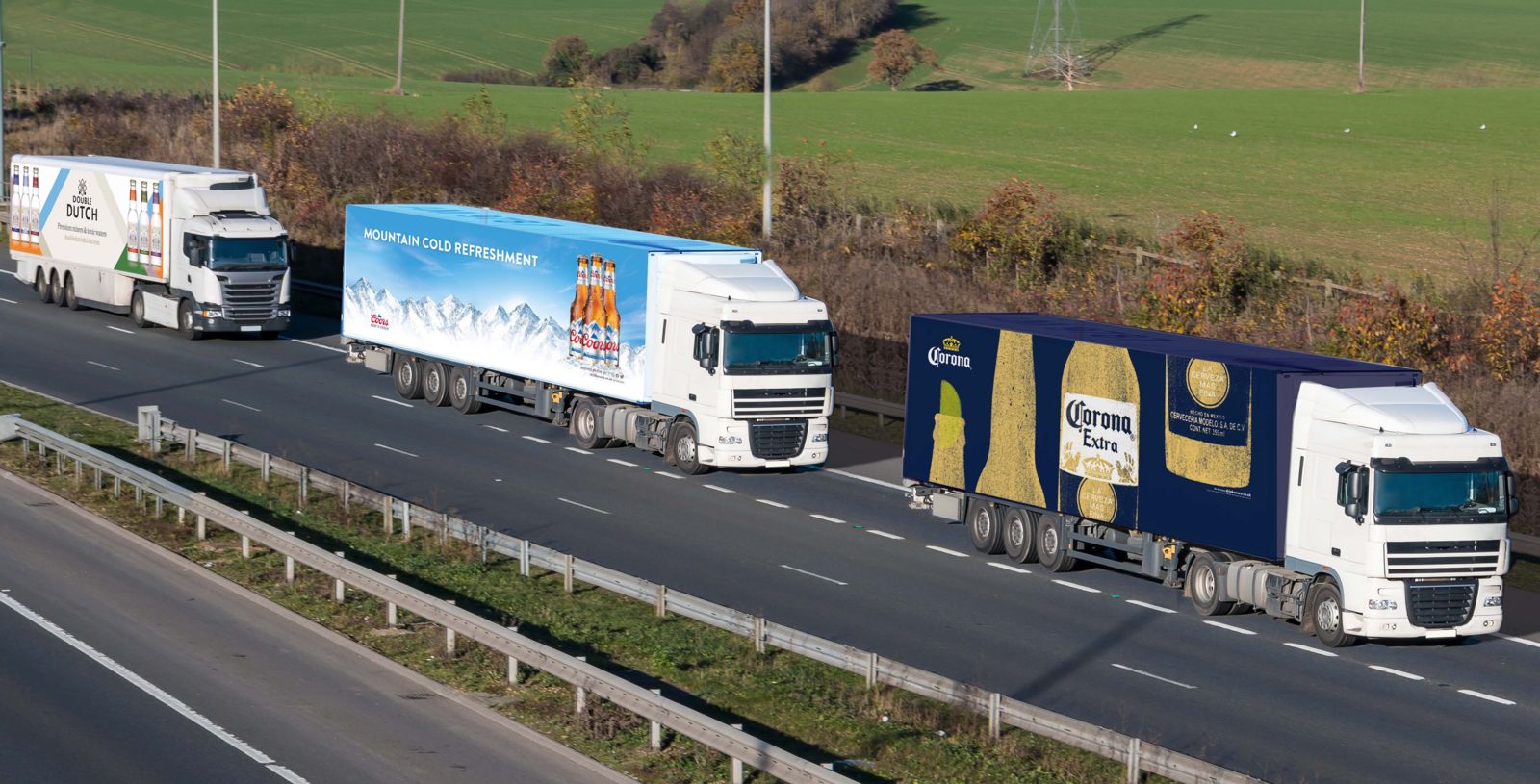 Structure-flex are gearing up for a busy festive season, manufacturing their award-winning lorry tension curtains for leading drinks brands ahead of the Christmas rush.
To keep UK beer and alcohol flowing this festive period, Structure-flex have helped a number of leading and growing brands ensure their fleets are in pristine condition, with colourful and vibrant lorry tension curtains.
Paul Reeve, Managing Director of Structure-flex says, "It's that time of year when brands want their fleets to look great on the roads. Our clients will be out on the road delivering to pubs and supermarkets across the UK. As the proud supplier of lorry tension curtains for numerous leading brands, we're thrilled we can help our clients look fantastic for their busiest season."
Despite restrictions imposed by the pandemic, last year's Christmas period saw record-breaking sales of beer, wine, champagne and spirits across the UK. According to Nielsen's Till Scan Data, champagne sales increased by 18%, tequila by 59% and flavoured vodka by 50%.
Looking towards Christmas 2021, alcohol revenue is set to exceed the previous year with the country fully open and ready to resume all the traditional Christmas celebrations.
"The lead up to Christmas is always one of the busiest times for beer and alcohol companies, especially this year, as families will be getting together again and Christmas parties and New Year's celebrations are back on. Our team have been working incredibly hard in recent months to provide quick lead times for our alcohol and drinks clients so their fleets look great this Christmas" Paul Reeve continues.
Earlier this year, Structure-flex reduced lead times for businesses by ordering and stocking a much greater quantity of materials for manufacturing their lorry tension curtains.
The UK's largest providers of lorry tension curtains have seen a busy lead up to Christmas, thanks to an increased demand for their products from leading alcohol and drinks brands including Thatchers, Matthew Clark and Heineken.
Established over 50 years ago, Structure-flex is a family-owned business which specialises in manufacturing products from flexible plastics using high-frequency welding. From their 50,000 square feet facility, their operations are one of the largest and most capable in the UK.
"After the challenges of Christmas 2020, I think we're all looking forward to a more traditional festive period, with good drink, good food and friends and family for everyone" Paul concludes.
For more information on Structure-flex and their lorry tension curtains for the drinks industry contact 01263 863 100.