Structure-flex Help Broads' Police Prevent Engine Thefts
Published: 23/09/2020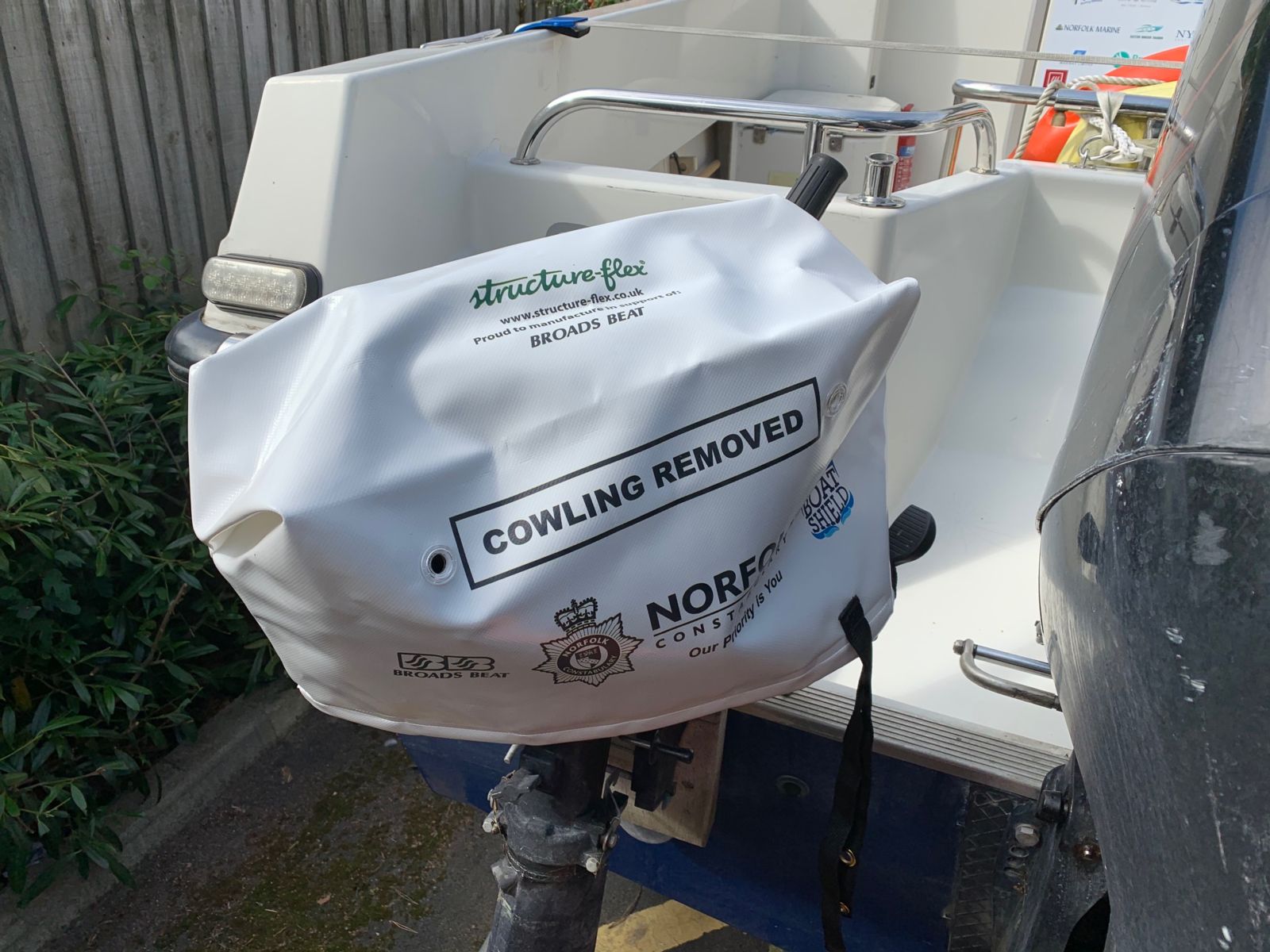 Norfolk Constabulary's have received their second consignment of anti-theft engine covers from local manufacturer Structure-flex, as they seek to prevent the theft of outboard motors.
To deter thieves, boat owners and operators are encouraged to remove the top cowling from their outboard engine when not in use and replace it with a flexible cover.
When the original supplier was unable to help, flexible thermoplastic experts Structure-flex stepped in to produce the weatherproof covers, even enhancing the design for greater durability.
"Even on our peaceful and idyllic waterways, theft can be an issue. As we specialise in manufacturing products from flexible plastics, including lorry tension curtains, bulk bags and flood barriers, we were delighted to help" says Paul Reeve, Managing Director of Structure-flex.
A spate of stolen outboard motors originally prompted Norfolk Constabulary and members of the coastal and Broads community to look for ways to prevent the thefts. The result was the simple but effective covers which won the prestigious Home Office 'Tilley' Award for theft prevention in 2010.
With the original engine cowling temporarily removed and replaced with the cover, an outboard motor is difficult to sell and thus deters would-be thieves. Since their introduction, no engine which features a cowl cover has been reported stolen.
"Theft is unfortunately a risk and we want to help boat-owners enjoy the Broads and coastline without concern. The design improvements and quality from Structure-flex are excellent and we're delighted to be partnered with them" states Sergeant Toby Gosden, one of the leading officers of Norfolk Police's Broads Beat team.
Norfolk Constabulary police over 125 miles of navigational waterways and 90 miles of coastline. Their dedicated Broads Beat team includes two full-time PCs patrolling the broads with support from several part time reserve officers, Special Constables and Police Service Volunteers. As well as theft-prevention, they are on hand to tackle anti-social behaviour, missing persons and other incidents on and around the busy waterways.
Made from reinforced and durable PVC, the waterproof covers feature breathable air holes to limit condensation. The covers range in cost from £28 to £38 depending on size and can protect outboard motors worth hundreds or thousands of pounds.
Established in 1970, Structure-flex manufacture flexible fabric products for use in transportation, packaging and testing and are one of the UK's leading suppliers of lorry tension curtains. Based in Cromer, Structure-flex believe they have the largest high-frequency welding and printing facility for flexible thermoplastics in the UK and were happy to help.
"We're always looking for interesting projects and it was great to be able to tweak the design to ensure the deterrent lasts even longer as people enjoy our beautiful waterways concludes Paul Reeve.
A list of stockists of the outboard engine cowl covers is available on the Broads Beat page of Norfolk Constabularies website: https://www.norfolk.police.uk/advice/roads-and-vehicles/boats
For more information on Structure-flex visit: www.structure-flex.co.uk