Size Matters!
Published: 23/11/2015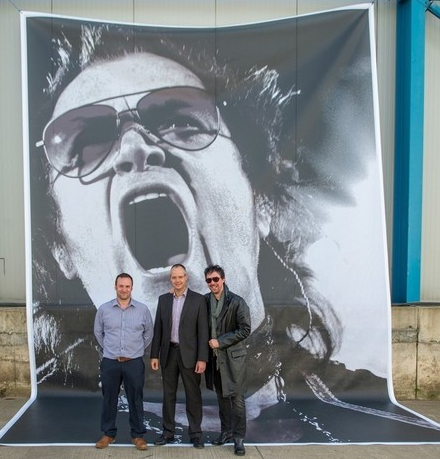 Iconic rock photographer Nick Elliott approached us earlier this year to enquire as to how big we could print a collection of 13 of his best prints for an outdoor art exhibition.
We produced a number of proto-types at various sizes and tested different fabrics before recommending the final specification of 8 meters high by 5 meters wide and framed with a metal structure to create individual free-standing exhibits. Designing a suitable structure that depicted the look and feel of pieces of art yet secured them into position to fulfil any health and safety requirements was also a big consideration.
The exhibition, entitled Size Matters, will debut at the Pageant of Power classic vehicle, boat and helicopter festival set in the historic grounds of Cholmondeley Castle, Cheshire, on 12-14 June.
Pageant of Power festival organiser, James Hall, said: "We are delighted to be the first to host Size Matters, it will be a fabulous addition to the festival this year. As the name suggests, the festival is all about power and the exhibition complements that theme perfectly.
Rock photographer Nick Elliott has worked in the music industry for over 20 years and his images have frequently been featured on album artwork as well as being published extensively across the media. Nick's work is also in demand as fine art and has exhibited in galleries across the UK and Europe, and is currently in discussion to show his images in the USA.
The musicians featured in the exhibition include a range of well-known artists that Nick Elliott has shot over his career including: Beverley Knight, Motörhead's Lemmy, The Darkness' Justin Hawkins, Simple Minds' Jim Kerr, Europe's Joey Tempest and Skunk Anansie's Skin, amongst others.
Nick explained: "I wanted to create an exhibition that was truly breath-taking. I've been showing my work for many years as limited edition fine art for collectors around the world but wanted to produce something on an enormous scale that would re-create the experience I had when I shot the image for the viewer. I believe that something on this scale has never been done before.
"The exhibition is about immersing the observer into the live performance so it had to be as big as possible to provide a truly memorable experience. I wanted to create a 'living' exhibition that was interactive and chose images especially that would be appreciated at a distance but also immeasurably powerful and engulfing close up.
To view the making of Size Matters visit www.sizematters.photography. For more information about rock photographer, Nick Elliott, visit www.nickelliott.eu, for more information on Pageant of Power visit www.cpop.co.uk.