New Technology Increases Digital Print Quality
Published: 09/04/2019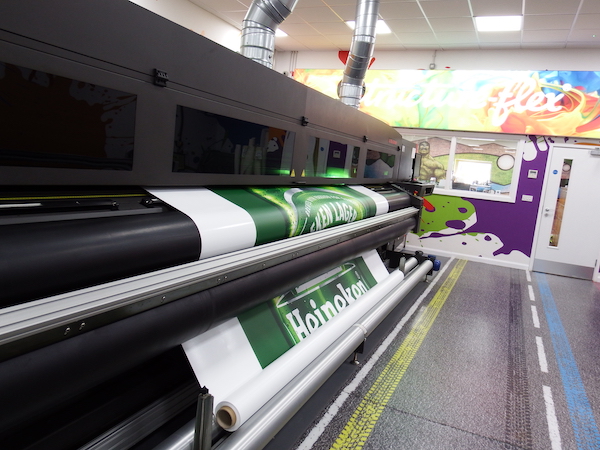 With the latest marketing trends placing increasing emphasis on the visual element of the brand, it is little surprise that marketers are exerting more and more pressure on printers in pursuit of the best possible reproduction quality.
Over the last 20 years, however, simultaneous developments in printers, inkjet printheads, fabrics and computing software have opened up new printing possibilities that have enabled the reproduction of graphics at exceptional high clarity on a range of fabrics up to 5m wide.
Applications have also shifted as new technologies have prompted a partial transfer from long-run analogue to short-run digital printing. Durable inkjet processes have taken over from screen printing for outdoor signs, electrostatic for indoor display materials, and dye sublimation for fine art and photographic applications.
To really do designs justice, manufacturers need to invest hundreds of thousands of pounds in the latest digital technology so that graphics can be reproduced at the highest possible dpi. For example, Structure-flex, which has a history of constant progression with innovative technology, has recently invested an additional £450,000 in the latest large format printing press to further enhance our capabilities.
We have two 5 meter super wide format Vutex GS5000R printers, as well as a Mimaki JV300 solvent roll to roll solution and a Mimaki JFX200 rigid substrate primer to enable us to provide the complete spectrum.
Printing on all types of fabrics is now possible and graphics, designs and images can be reproduced on both rigid and fabric surfaces. PVC, vinyl laminated products, urethane coated fabrics, polypropylene, and polyethylene, all offer a flexible, durable surface for large format printing and are the perfect media on which to produce eye-catching outdoor advertising banners, event signage or even building wraps, as well as lorry curtains.
For many designs the colours are crucial and the use of a range of base colour fabrics is now common place alongside the traditional white used for full coverage. For some applications, this process used to be done by hand, but modern printing innovations have now enabled this to be part of a one-stage process, thereby, reducing printing times considerably.
Developments in drop-on-demand printheads, especially piezo-electric types, have allowed the handling of a much wider range of printing fluids compared to thermal heads that previously confined printing to water-based inks.
This has fuelled huge technical developments in inks themselves from traditional water-based inks, which lacked outdoor durability without lamination, to more durable oil-based inks that use solvents to adhere the colorants into the top layer of the media, so forming a permanent, weatherproof and fade resistant bond.
The reproduction of eye-catching graphics is not the only consideration, however. The durability of the material used in the manufacture of the sign is an important element if it is to maintain its appearance in all weathers.
Consistency of the finished printing is critical for multiple runs. Complex printing projects need careful management and it is always wise to investigate the technical expertise of capable suppliers before placing an order. At Structure-flex, we offer a consultation service so that customers can receive the correct advice on design, print and manufacturing, to complete a bespoke service.
All these recent printing developments have paved the way for innovation and, with the rate of change increasing all the time, supporting the visual brand is becoming easier and easier.