Support Tubes
Published: 23/11/2015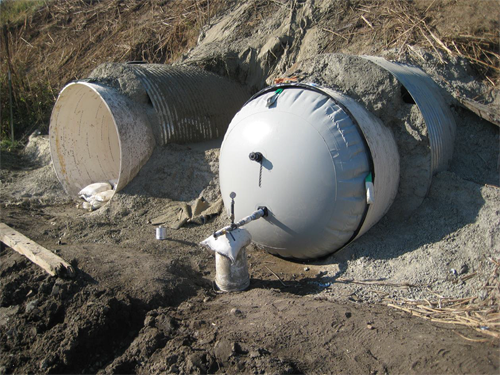 We were approached by a client, who had previously seen one of our large diameter air filled tubes being utilised for a pipe laying project in Canada. The client, a leading systems provider of spirally wound pipe, asked us to assist and design a similar inflatable product, to be used as a method of providing internal support to the tube, during the grouting process to the annular space.
Ordinarily, to avoid tube deformation under the weight of the grout as it is pumped, smaller pipes are filled with water to provide the necessary internal support, or on larger pipes steel bracing can be used in small sections. Whilst effective, bracing is time consuming as it is only possible to grout a few metres at a time, combined with the waiting time required for the grout to set.
Having significant experience of manufacturing this type of product with Rib-loc, we were able to design a 1.8 metre diameter, 15 metre long tube from PVC coated polyester, using high frequency welds to provide the necessary strength of construction and airtight seams.
This enabled large sections of the grouting process to be completed in a single pump, with the inflatable tube providing the necessary support, enabling successful project completion in good time.