Structure-flex provide bees with windbreaks as cold weather hits
Published: 19/10/2023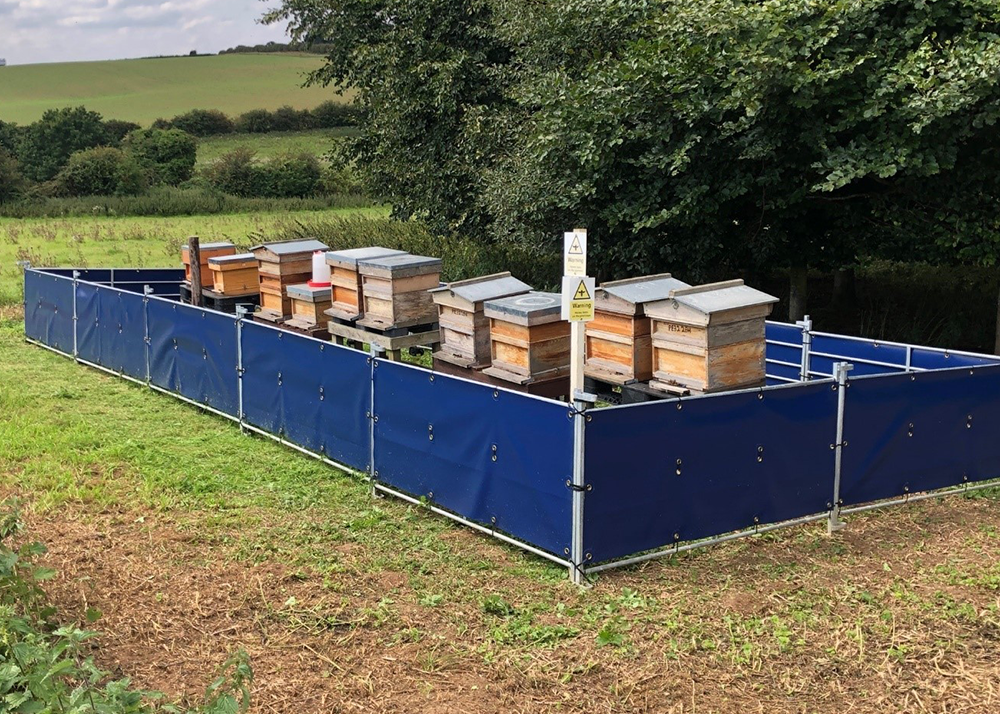 The Cromer-based leaders in lorry tension curtains and graphics have continued their support for local bees, providing a Norfolk beekeeper with insulated windbreaks.
For many years, Structure-flex has been helping the local community and charities by donating off-cuts of PVC covered fabric – used to manufacture products like lorry tension curtains and proof test bags.
These have been used by charitable organisations such as Bee Saviour Behaviour, who use the material to create homes for endangered bees in British cities, and Cycle for Good, who manufacture bags and wallets to aid communities in Malawi.
In 2021, Structure-flex were contacted by Greg Shepherd about creating an insulated wrap to protect his bees from harsh winter weather, after the Norfolk-based beekeeper lost 50% of his colonies to prolonged cold and damp conditions.
Now, Structure-flex have extended their support by providing the Norfolk-based beekeeper with windbreakers to further shield his beehives from the harsh winds expected this autumn and winter.
"The materials we donate are tough enough for hard working lorries, so it's great to see our surplus used to give bees an equal level of protection!" says Paul Reeve, Managing Director of Structure-flex.
Earlier this year, Norfolk was hit by cold easterly winds which slowed down the bees' expansion of their colonies and kept their numbers at lower levels.
With more storms forecast to hit the East, the bees are set to be exposed to even more inclement weather - which it is feared could reduce their numbers further.
Structure-flex have subsequently manufactured 14 windbreaks from lorry tension curtain fabric, which are fastened to fences surrounding the apiary and protect it from both the weather and woodpeckers.
"Following the success of the insulated wraps that Structure-flex installed in 2021, I decided to go one step further and ask if they could manufacture windbreaks. So far, they have done exactly what I wanted and the apiary is sheltered all year-round" adds Greg Shepherd.
With over 50 years of experience, Structure-flex are the UK's leading supplier of lorry tension curtains. They also provide a wide range of other products manufactured from flexible thermoplastic, including bulk packaging, proof test bags, air lift bags and the Mobildeich flood-defence system.
They also offer a variety of digital printing services, including vehicle graphics, wall wraps and advertising signage.
"It's sad to hear the Great British bee population is declining. We're delighted we could support this project and are always excited when we get the opportunity to help out a great cause" concludes Paul Reeve.
For more information on Structure-flex, visit https://www.structure-flex.co.uk